A portable fire pit is a great choice for any campsite or backyard bonfire. However, when you're traveling to other campgrounds, festivals, or parks with your friends and family, you don't want to lug around something heavy.
Whether you're cooking food outdoors or prefer a decorative addition to the patio, you need portable models. That way, you can pack them up with your gear effortlessly.
This review focuses on the best portable fire pits out there, with 8models to enjoy. You want something durable with safety in mind for a great price, and these fire pits might be the best option out there!
Types of Fire Pits Available
There are two primary fuel sources available for portable fire pits: wood and propane. A gas-powered pit is easy to connect to the propane tank with a pre-attached hose. You turn it on and off, so you're not waiting for the fire to burn down or using water to douse it when it's bedtime.
Your standard propane tank might weigh 20 pounds, but you don't carry firewood around with you. Propane fire pits let you make your fire during burn bans, though you should check fire regulations where you're using it to be safe. Plus, a gas fire pit generates less heat than large wood-burning fire pits.
Most companies promise that their wood or propane fire pits reduce smoke, so you're not moving around the pit when the breeze changes. Plus, if you don't like smelling like the campfire, there's less of a smoky scent clinging to the clothes and hair.
A portable fire pit varies drastically in design, too. Some look like non-portable fire pits and are lightweight, but others have carrying bags and folding legs.
The best portable fire pits keep their flames off the ground, too. Plus, some of them offer practical features for grilling and preparing food, such as grates. With that, some include charcoal settings.
Know how you plan to use the portable fire bowl when focused on buying the best one for your needs.

BioLite FirePit
You might have issues finding a better propane fire pit than the one from BioLite. The battery pack you see offers a four-speed fan, pumping air through over 50 jets. That quickens the burn and cuts down on the smoke you see. Plus, it easily pops off of the body of the fire pit, so you don't have to carry the entire fire pit into the house to give it a charge.
There is also a USB output, which lets you charge devices from the fire pit.
Just be careful when using the fan. When you add medium-sized logs to your fire, it's best to leave it on a lower setting. Otherwise, the blast might whip the flame around, making it harder for the log to catch fire.
The fan emits a high whine, too, which is a minor annoyance. With the perforations in the body, it could be harder to keep the flame going in the wind.
At only a weight of 19.8 pounds, it is quite portable. Plus, there is a removable grill grate and ash drain to make cleanup a breeze.
You're sure to appreciate that the BioLite FirePit is 15.8 inches tall and uses wood for the fuel. Plus, the flames stay strong when using this backyard fire pit.

UCO Flatpack
Those who want everything they can get are sure to appreciate the UCO Flatpack wood-burning fire pit. It has a handsome carrying case made of canvas and is quite small, making it easy to store. Plus, with a weight of 10 pounds, it's portable.
While it's one of the smallest options, it is sturdy when the legs are deployed. Plus, the stainless steel fire pit body is thin, so it supports enough traditional wood fire or charcoal to meet your needs.
However, it could indicate that you must pay frequent attention to the fire pit while it's going because you can't put big logs on it.
The included grill grate is a nice platform for cooking burgers and more. However, it does produce a lot of smoke, even though the fire pit is quite small. Still, it does what others can't; carry it into your home and add it straight to the dishwasher to clean it!

Kinger Home Portable Propane Fire
Usually, the easiest option for cooking for a fire pit is to use gas. Therefore, the Camp Chef Redwood is a great full-size propane-powered fire pit that's easy to set up and fire up. You don't have to start the fire and then tend it, just hook up your propane tank, open the valve on the propane, and turn the dial to produce a nice flame.
While you don't have to light it yourself, it does provide immediate heat from the propane.
However, you've got to pay close attention to the propane tanks. You don't want them to be close to the flame, and the hose is long enough to give you peace of mind. Plus, there is a steel support fire ring to nest the propane into. It holds the propane upright, even if the surface is slightly slanted.
With a weight of 35 pounds, this is a portable option. Plus, you don't have to deal with searching for logs while camping.
Plus, the Redwood stays lit even with lighter wind gusts, there's a low rim and not much of a guard. Therefore, the field of heat could be fickle on windier days.
With that, you must focus on airflow, which means adjusting the propane levels as needed. On top of everything else, you need lava rocks to cook directly on the little stove along with the propane. There's not a wide diameter, making it harder to do.

Radiate Portable Campfire
Those who want something interesting should consider the Radiate Portable Campfire. With a diameter of 8 inches and weighing in at 4.8 pounds, it's one of the best options out there. Plus, it isn't very tall.
If that weren't enough, you can use the fire pit for heat and don't have to worry about the smell. Since tin doesn't go over the wax and offers wind protection, it is hard to light on blustery days.
However, you're sure to appreciate that this pit is portable and comes with a lid. That way, you can tamp out the flame easily, just put the lid on it and step on it to kill the fire.
Both the pit and the lid are sturdy, which means you can throw them in a backpack or a vehicle without any issue.

Solo Stove Bonfire Yukon
Those who want a sleep fire pit should consider the Solo Stove Bonfire. However, it is a quite smokeless fire pit, so it's less portable than other options. Plus, it might be nice if it had handles, but with a weight of 45 pounds and a decent diameter, it's light.
You might prefer to use it for backyard camping, but it can be taken on the road if necessary. Just be prepared to carry it to the destination!
You're sure to appreciate the stainless steel cylinder with vent holes along the base. This draws in air to cut down on the smoke and speed up the burn and heat.
Solo Stove does use up quite a bit of wood and burns about 15 pieces in three hours. However, there wasn't much ash to clean up, and it produced a great flame. If you're planning to use this pit for heat and preparing meals, it can handle both efficiently.

Pop-Up Fire Pit
When you pack it down, the Pop-Up is the size of a regular folded camp chair. However, when you open it up, you have a platform to create a huge blaze with this outdoor fire pit from Fireside.
It's only 4 square feet, and the stainless steel mesh surface holds a weight of 125 pounds of logs when you're at the campfire.
Plus, the 3.5-inch walls are thick enough to protect airflow, cutting down on smokiness, and more.
Since it is portable, it's easy to put on more wood because of the open design. Plus, you're sure to appreciate that it is 24 inches long, so it's not too big for most spaces.
It's sure to be a favorite tool to bring with you, even with all the parts to keep with it. However, you can be roasting marshmallows and meals for hours with this model.

Folding Campfire Grill
Those who need ample space should consider the Primus Kamoto Open Fire wood-burning pit. It is made of stainless steel, uses wood for fuel, and has a special X shape. Just set the free legs in the grooves, drop in the platform and windshields, and you're set. However, it had a wide base, so you should keep the ground free of leaves and debris.

Fireside Outdoor Trailblazer
The Trailblazer might be one of the best options for fire pits. The walls protect the fire once you get it going.
Plus, it's easy to carry and is only about 12 inches long. With that, you feed wood to it, which is easy to do. Add some smaller sticks through the gap for fires that seem to never end.
Though the fires produce a lot of ash, it's often easy to keep it cleaned and ready to go.

Are Portable Fire Pits Good
Yes, portable fire pits are good for many reasons. Firstly, they're a great way to enjoy your backyard or garden. You can host outdoor parties and barbecues using the space you already have by purchasing a portable fire pit. Most models offer an adjustable flame, so it's easy to turn down accordingly as well if you want to save on fuel.
Secondly, portable fire pits are a great way to keep warm outdoors. If you're spending time outside in the evening or early morning hours, a fire pit can help extend that time by giving you some heat to stay comfortable. They're also a great way to roast marshmallows or hot dogs!
Finally, many people use a portable fire pit as a safer alternative to traditional fires placed inside the house. Distracted young children and pets might be able to get too close, so it's a good idea for homeowners with these safety concerns.
Portable fire pits are also very versatile. They can be used indoors or outdoors, which expands their appeal to a wide audience.
Pros and Cons of Having One
Although there are many positive aspects to portable fire pits, they also come with a few possible negatives. For example, you often need to purchase some sort of fuel for them – such as wood or charcoal – which can be messy and difficult. Sometimes, it's also difficult to find a place to put the fire pit that's both safe and allows for people to gather around it.
If you're looking for an easy, convenient way to add some warmth and ambiance to your backyard or garden, a portable fire pit is a great option. Just be sure to weigh the pros and cons before making your purchase.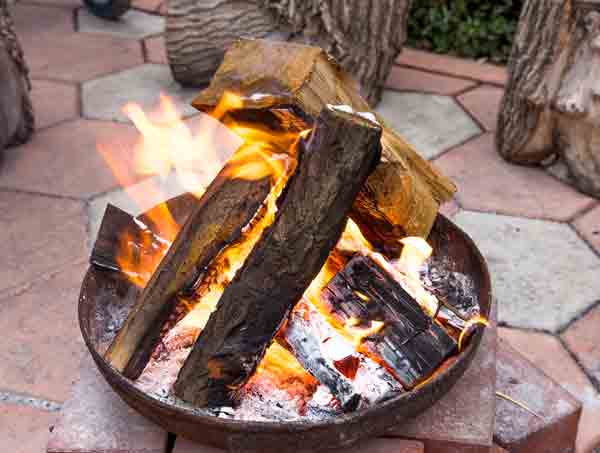 What to Look for When Buying One
When shopping for portable fire pits, you'll notice that they often come with accessories. For example, many models include cooktops so you can quickly cook up some veggies or other foods while your pit is burning. Some also come with poker tools and ash catchers to make tending to the fire a little bit easier.
Choose the model that best suits your needs and make sure to read the reviews before purchasing. The more features a fire pit has, the more expensive it will likely be. But if you're looking for a versatile option that can do it all, it might be worth the investment.
So, Portable Fire Pits are good. They're very good. For any outdoor space or camping trip, a portable fire pit can be a great addition to your home, allowing you to enjoy the outside from the inside of your own house. They also serve as safe alternatives to traditional bonfires or indoor fireplace fires for those who have young children or pets running around. Be sure to check out some of the different options available before making your purchase.

Features To Look For In A Portable Fire Pit
When it comes to choosing a fire pit, you'll want to make sure that it has all of the necessary features. For example, look for one with an adjustable flame so you can make it low when necessary. Consider whether you want one that has a cooktop included, as this can come in handy for cooking up food while you relax around the fire. If you're looking for something more portable, choose a model that is easy to move around and doesn't require any additional fuel.
Be sure to also check out the reviews before making your purchase. The more features a fire pit has, the more expensive it will likely be. But if you're looking for a versatile option that can do it all, it might be worth the investment.

Are Chimineas Better Than Fire Pits?
One of the main differences between fire pits and chimineas is that fire pits are more stationary pieces of equipment. Chimineas, on the other hand, can be moved around with relative ease.
Simply put, they each have their unique strengths. Fire pits are less expensive options to use for ambiance in your backyard or garden. They're also much more stationary and easier to find a place to put.
Chimineas are larger, meaning they can heat the surrounding air around them. They also have a much more rustic look, creating an even more relaxed atmosphere for your backyard or garden.

What Size Portable Fire Pit Do I Need?
When it comes to choosing a portable fire pit, one of the most important factors to consider is size. You'll want to choose one that's big enough for your needs, but not too big or bulky that it's difficult to move around.
If you're looking for something primarily for ambiance and don't need it to be very big, a smaller fire pit with an average size flame projection will do the trick. But if you're looking for something that has more heat output and can be used to cook up some food, look for one with a larger flame that gets hotter and is capable of heating the surrounding air.
Consider how often you'll use it and what your main needs are before making your purchase.

How Do You Use A Portable Fire Pit?
Using a portable fire pit is pretty self-explanatory, but there are some special safety precautions you'll want to keep in mind.
For example, it's always recommended that you have a hose or bucket of water nearby just in case the flame becomes too big and needs to be put out quickly. If possible, try to position your fire pit in an open space where the fire won't cause any damage if it gets out of control.
Be sure to read the instructions that come with your fire pit before using it for the first time. This will ensure that you know how to use it safely and properly. And always be aware of your surroundings, keeping an eye on children and pets.

Are Portable Fire Pits Safe?
When used properly, portable fire pits are perfectly safe. However, if you're not careful or if it's left unattended, the flame can get out of control quickly. Make sure your fire pit has enough space to burn without being obstructed by anything nearby so it doesn't get too big. Also, always be sure that you have a hose or bucket of water nearby in case the fire needs to be put out before it gets too big.

How Should I Clean My Portable Fire Pit?
Cleaning your portable fire pit is fairly simple. After use, let it cool for a bit, and then brush off any remaining remnants from the fire. If needed, you can use a damp cloth to wipe it down. Be sure not to get the metal too wet, as this could cause it to rust.
Store your fire pit in a dry place when not in use. This will help keep it in good condition and prevent any rusting from happening.

Conclusion
Regardless of whether you want to use propane or wooden material for your fire pit, these eight products are excellent. You're sure to appreciate the Camp Chef brand, as it runs on propane and has a ton of great accessories.
Use caution when using wood-burning fire pits on a wooden deck without the addition of a fire pit mat, which serves as a heat-resistant barrier.
It's highly durable, and the price isn't bad. Whether you're planning a bonfire at home or a trip out to camp, this is one of the best options on the market.